PROGRAMME
Download Round Table Timetable
Directions to the conference venue
PROGRAMME AT A GLANCE
ROUND TABLES
​Please click here nowto select your preferred contributionsfor the HYP23 ROUND TABLES Deadline: Wed, August 9, 24:00 h CET
SPEAKERS & TALK TITLES
PLENARY & INVITED SPEAKERS
Jean-Pierre Ansermet (EPFL Lausanne)
WHEN SPINTRONICS AND MAGNETIC RESONANCE CROSS PATHS
Dmitry Budker (Gutenberg Universität Mainz)
HYPERPOLARIZATION AND ZERO- AND ULTRALOW-FIELD NMR
Silvia Cavagnero (University of Wisconcin)
MARVELS AND CHALLENGES OF LC-PHOTO-CIDNP NUCLEAR-SPIN HYPERPOLARIZATION IN LIQUIDS
Peter Hore (Oxford University)
RADICAL PAIR MAGNETORECEPTION: HYPERPOLARIZED BIRDS?
Matthilde Lerche (Danmarks Tekniske Universitet)
t.b.a.
Yoh Matzuki (Osaka University)
METHODS AND INSTRUMENTS FOR HIGH-FIELD MAS DNP TOWARD INTRACELLULAR STRUCTURAL BIOLOGY
Fred Mentik-Vigier (Tallahassee National Laboratory)
PYRROTRIPOL AND DEUTERATED ASYMPOL FROM THE VIEWPOINT OF SIMULATIONS AND EXPERIMENTS
Thomas Prisner (Goethe Universität Frankfurt)
t.b.a.
Anna Parker (NVision Imaging Technologies)
HYPERPOLARIZED SOLUTION-STATE NMR SPECTROSCOPY VIA INTERMOLECULAR NOE UTILIZING OVERWHELMING SOURCE MAGNETIZATION
Warren Warren (Duke University)
IMPROVING SABRE HYPERPOLARIZATION USING NON-INTUITIVE FIELDS AND SEQUENCES
Jim Wild (University of Sheffield)
HYPERPOLARIZED 129XE MRI – METHODS AND BIOMEDICAL APPLICATIONS
PROMOTED SPEAKERS
Malcolm Levitt (University of Southampton)
WHAT IS HYPERPOLARIZATION?
Dominik B. Bucher (TU München)
MICROSCALE NV-NMR ON A CHIP LOOKING FOR HYPERPOLARIZATION METHODS
Olivier Lafon (University of Lille)
OBSERVATION OF QUADRUPOLAR NUCLEI NEAR SURFACES USING HIGH-RESOLUTION MAS DNP AND ULTRA-HIGH-FIELD NMR
Sami Jannin (University of Lyon)
DYNAMIC NUCLEAR POLARIZATION WITH POLARIZING MATRICES: FROM SILICA AND EPOXY TO CONDUCTIVE POLYMERS
James Eills (INEC Barcelona)
PARAHYDROGEN-INDUCED POLARIZATION FOR METABOLIC IMAGING IN ORGAN-ON-A-CHIP DEVICES
Nobuhiro Yanai (Kyushu University)
TRIPLET DYNAMIC NUCLEAR POLARIZATION OF BIO-RELEVANT MOLECULES BY NEW POLARIZING AGENTS
Ville-Veikko Telkki (University of Oulu)
SINGLE-SCAN RELAXATION AND DIFFUSION METHODS FOR HYPERPOLARIZATION APPLICATIONS
Thomas Biedenbänder (University of Rostock)
A 2H APPROACH TOWARDS INVESTIGATION OF METHYL DYNAMICS UNDER DNP
Stefan Glöggler (MPI Göttingen)
PARA-HYDROGEN ENHANCED MAGNETIC RESONANCE - NEW AVENUES TO STUDY HYDROGENASES AND FOR IN VIVO APPLICATIONS
Olivier Ouari (Aix-Marseille Université)
BETTER BIRADICALS FOR SIGNAL ENHANCED SSNMR DNP: A CHEMICAL AFFAIR
Henrike Heise (Helmholtz Center Jülich)
PROTEIN FOLDING OBSERVED AT HIGH SENSITIVITY: SHEDDING LIGHT ON CHAOTIC SYSTEMS
Wolfgang Kilian (Physikalisch-Technische Bundesanstalt Berlin)
ROUTINE HYPERPOLARIZED 129XE NMR UTILIZING A BENCHTOP SPECTROMETER
Charlotte Bocquelet (University Lyon)
PERFORMANCES OF A TABLETOP FLOW DNP POLARIZER WITH POROUS MATRICES: TOWARDS RECYCLABLE HYPERPOLARIZATION
Andrea Capozzi (EPFL Lausanne)
ACROSS CITIES DDNP: STRATEGIES AND CHALLENGES TO MAKE HYPERPOLARIZATION TRANSPORTABLE
Dennis Kurzbach (University of Vienna)
DISSOLUTION DNP ACCESS TO MATERIAL FORMATION - BOOSTING RESONANCES OF SHORT-LIVED INTERMEDIATES ABOVE THE DETECTION THRESHOLD.
Christoph Tegenkamp (TU Chemnitz)
ELECTRON SPIN POLARIZATION IN POLYALANINE MOLECULES IN 2D AND QUASI-1D ASSEMBLIES: THE ROLE OF COUPLING, CHIRALITY AND COORDINATION
Snædís Björgvinsdóttir (ETH Zürich)
DEVELOPMENT OF A 28 T HTS GYROTRON MAGNET FOR DNP
Liubov Chuchkova (University of Mainz)
DEPENDENCE OF PHOTOCHEMICALLY INDUCED DYNAMIC NUCLEAR POLARIZATION ON WAVELENGTH, LIGHT INTENSITY AND MAGNETIC FIELD
TUTORIALS ON SUNDAY
24 September, 13:00–16:00 h,
at Chemistry Building
Please download here the tutoium info.
All are welcome: MSc students, starting & advance PhD students, postdocs.
Please bring your own notebook or laptop.
Programme:
Chair: Matthias Elgeti
13:00 NV centers (Ralf Wunderlich)
13:45 CIDNP (Silvia Cavagnero)
14:30 SEOP (Eike Brunner)
15:15 Lab Tour
NV = nitrogen-vacancy centers
CIDNP = chemically induced dynamic nuclear polarization
SEOP = spin-exchange optical pumping
Where
(for detailed directions, please see here):
Großer Hörsaal Chemie (Large Chemistry Lecture Hall)
Chemistry Building
89GQ+QX Leipzig
Johannisallee 29, 04103 Leipzig
In the building, a coffee vending machine is available.
PIANO
In our main lecture hall, we'll provide a piano. So, dear pianists, please be prepared to entertain us during coffee breaks:)
​
CONFERENCE DINNER AT LEIPZIG ZOO: GONDWANALAND – don't miss this unique experience!
(address: Pfaffendorfer Straße 29, 04105 Leipzig); dinner ticket included in conference fee)
Gondwanaland is home to almost 170 exotic animal species and approx. 500 different plant species of the tropical rainforests of Africa, Asia and South America (covered area – larger than two football pitches) –
Download directions to Gondwanaland
​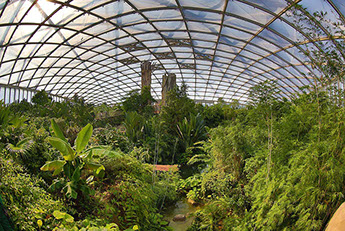 Photo: Gondwanaland by Zoo Leipzig